Just looked and analysed BTC.D chart, which stands for Bitcoin dominance in the coin market cap.
While most of you have been asking yourself a question: When its time to invest in Alts?… this post can help you to get the answer.
Just look at the recent price action of BTC.D, it rejected the upper trendline of the according channel very princely while at the same time rejecting the 1827.0% Fibonacci retracement level.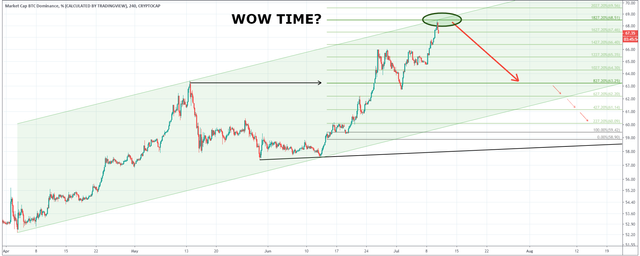 Definitely smells like at least like a correction down, which means… yes you guessed it right, Alts will prevail!
Obviously I don't know the future and whether it will be the case or not, but all formation that is needed is always hidden in charts. Yes as simple as that, charts do talk. Therefore, there is a good chance that money will start pooing to Alts starting from today! Unless of course BTC.D will break above the current high.
Watch 68.5% level, and while BTC.D is below, the profit opportunity in alts is wide open. Just be sure to choose the right altcoin.
This is not a financial advise, but pure technical observation for your information only!!!