This is a very interesting topic for most here I'd guess… where the price of steem will be in few years.
We all know steem is the first and the most advanced crypto social network at the moment. On top of it it has multiple products built on it. Basically this is one of very few cryptos with real purpose and a working product. This alone is a massive advantage which might result in a good gains for investors, since this is a very very early stage of steem adoption.
Of course there will be competitors and steem might not be the best one (I hope it will). However, this scenario is only for two years and it is interesting to speculate upon it.
Below is the Steem / USD chart, and you can always check how it goes by clicking on the image (and then "play" button on tradingview).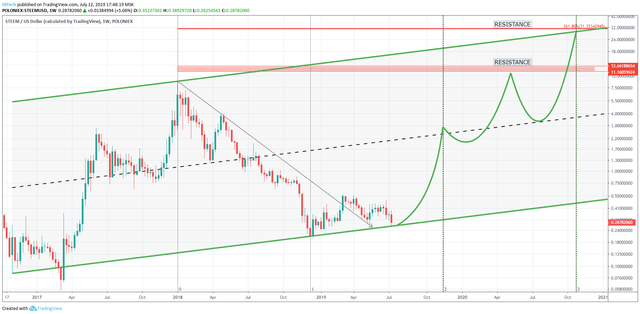 What we have is a logarithmic chart which shows that price is currently bouncing off the uptrend trendline. Please note, that upside scenario can only be valid if the monthly close will stay above the trendline.
While the uptrend trendline is being rejected, the downtrend trendline has already been broken, which is a virst sign of a potential continuation of a long term uptrend. The year 2021 comes from Fibonacci cycles and crossing with the upper trendline of the ascending channel as well as 361.8% Fibonacci retracement.
This is a technical speculation and I'd love to hear what you think of this and whether Steem could reach $33 mark by 2021.